Welcome
The Class of '83's 35th Reunion is May 23-27, 2018 in Cambridge.
We hope you'll join us!!

REGISTRATION: is OPEN.

Register at this link: click here.

We've made it easier, now....no Harvard Key required!
important deadlines
Don't miss out! These deadlines are fast approaching.....
April 23: Last day to order class gear/swag from online store (

click here

)
April 27

: Class survey deadline - it's more fun when more classmates answer the survey! (

click here

)
April 28: Last day to register for on campus housing FIRM DATE - NO EXCEPTIONS
April 28

: Last day to get early bird rates for reunion
May 5: Deadline to register for children's program (FIRM DATE - NO WALK-INS WILL BE ALLOWED)

who's coming
Find out who has already registered to attend (click here). Join your friends, tell your friends .... let's make this the best reunion, ever!
class survey
The Class Survey is now available online. Click here to take the survey. We encourage all classmates to complete the survey. Results will be presented Saturday afternoon, during the reunion and will also be streamed LIVE on the Class Facebook page for classmates unable to attend the reunion!

Class report (the red book)
The Class Report, aka The Red Book is being mailed out, now! Some classmates have already received their copies but others will not for a few weeks. The books are shipped in geographic batches. So, don't worry if you haven't received yours, yet. If you still don't have yours at the end of April, please e-mail 35thReunion_haa@harvard.edu to report it.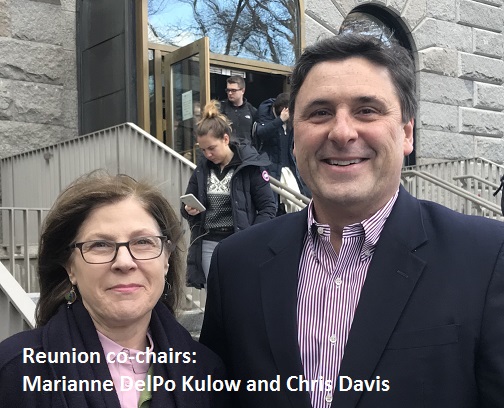 Reunion Co-Chairs Invitation Letter
Reunion Co-Chairs Marianne DelPo Kulow and Chris Davis invite you to spread the word to classmates about our reunion.
Read their letter of invitation to the class, here.
Upcoming Pre-Reunion events, by region:​
SAN FRANCISCO: April 22, 3-6pm

WASHINGTON, DC: April 23, 7-9pm

HUDSON VALLEY: April 29, 2-5pm

Menlo Park, Philadelphia, Colorado, Boston, Miami and Seattle events are in the planning stage. Check back here for dates.
An e-mail invitation will be sent to local classmates. If you want to attend one of these events and don't live in the area, e-mail us.
If you're interested in hosting an event, please let us know.
Have Frequent Flyer Miles you're willing to donate?
Donated miles would go towards assisting those classmates for whom airfare is the barrier to attend the reunion. Please e-mail us if you can help out.
Connect with classmates on FACEBOOK.
Join the conversation. Share photos and news. See reunion notifications.
"HR 1983" is our class Facebook Page.
"HR 1983" is a "closed group" on Facebook. Search for "HR 1983" and ask to join. Classmates will be admitted to the group.
By default, you will see "highlights" from this group on your News Feed. Should you wish to see "All Posts", click "Notifications" below the cover photo and select from "All Posts", "Highlights", "Friends' Posts or Off.
Get your login credentials (also known as your "Harvard Key").
UPDATE: You no longer need the Harvard Key to access the reunion registration. All other alumni features behind Harvard Key have not been impacted.
The "Harvard Key" gives you logon credentials to Harvard's alumni portal where you can search the Alumni Directory and register for other events. You no longer need a Harvard Key to sign up for the reunion!
You control which mailing lists you are added to when you register for the "Harvard Key". You can opt out of mailings, if you like.
If you don't already have "Harvard Key" login credentials, you can create an account by clicking here.
You'll need your 10-character Harvard Alumni Association (HAA) number to register. You will find this at the bottom of any recent email or mailing from the Alumni Association.
Click here for more detailed instructions.
Privacy note: If for any reason you would like to have an image or information about you removed from this website, please contact us by e-mail